neurontin 100mg Here's a preview from my new paid newsletter: Crypto News Over Nonsense
http://blacksuperherofan.com/tag/spider-man/
Stakhanov
As I've said before, the entire purpose of this newsletter is to sort news from nonsense, signals from the noise and info from hype. I know you agree the hype factor even in the midst of 'crypto winter' is unreal some days.
This week we have 2 big, juicy, informative reports with new, actionable information and analysis. Let's take a look.
Bitwise Research Reveals the 'Real 10'
When Bitwise Asset Management tweets this out a few days ago and the TL;DR (which means too long didn't read) says 95% of reported (Bitcoin trading exchange) volume is fake, I took notice.
1/ New Research from us @BitwiseInvest.

As part of 226 slides presented to the SEC on our ETF filing, we did a first-of-its-kind analysis of *order book data* from all 81 exchanges reporting >$1M in BTC volume on CMC.

TLDR: 95% of reported volume is fake but LOTS of good news! pic.twitter.com/TuXLlDCRyP

— Bitwise (@BitwiseInvest) March 22, 2019
Bitwise is working with the SEC to try to get their Bitcoin ETF approved. As part of that process, the first 86 pages of their 226 page report were all about Bitcoin exchanges and their volume. View online as a pdf or download the entire report from Bitwise to the SEC.
How this fake volume happens is most exchanges are unregulated. They have no incentive to publish accurate numbers on their trades, let alone separate real trading from wash trading, a form of market data manipulation. Unregulated exchanges have Valdivia more motivation to inflate their numbers since many earn more money from exchange listing fees than from trades. To list on one of these unregulated exchanges could cost a token $1-3 million, according to Bitwise. This alone is a great reason to make it look like your exchange trades more than it does.
Like what you see here? For less than a cup of coffee each week, you can get this info right in your email inbox: Subscribe Here
So through lots of research and scrubbing of data, Bitwise uncovered the 'Real 10'. The Real 10 are the 10 regulated exchanges who are reporting their numbers honestly. Here they are, taken right from a slide on the Bitwise report: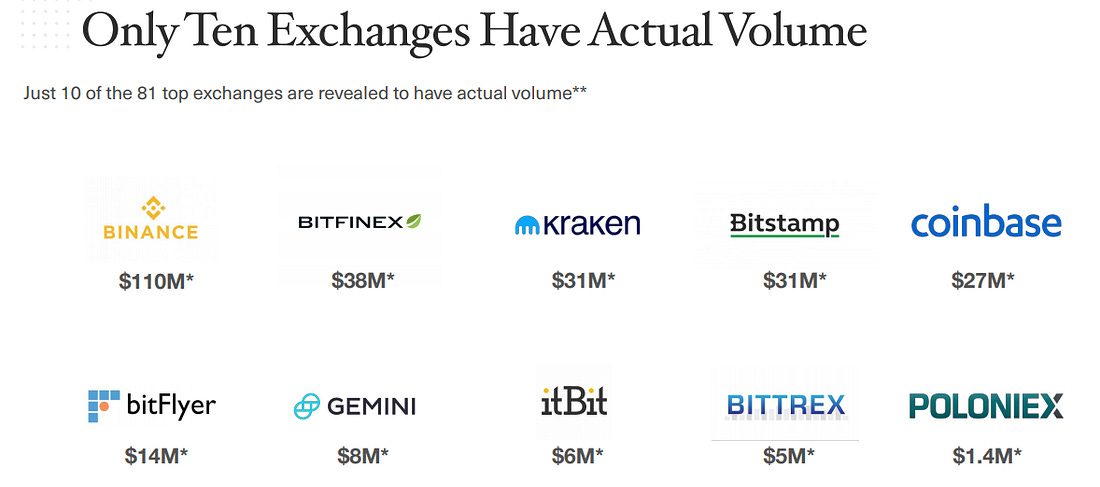 Bitwise is trying to show that real market information from honest, regulated exchanges is much closer to other regulated, orderly, and traded markets. These markets like gold, commodities, currencies or stocks are more like Bitcoin than this perception that everything in Bitcoin is unregulated, easily manipulated, and operating like it's the Wild West. Wild West environments are not good to the SEC.
Our CNON Take: Yes, it's in Bitwise's own interest to make the market look more orderly to get their ETF approved. Yet, the detail in this report on exchanges from pages 21-83 have the best information on Bitcoin exchanges that's been released to the public.
With the possible exception of a quality Bitcoin wallet where you control your private keys, Bitcoin exchanges are the most important part of the crypto-economy today. They provide the on ramps and off ramps between government currency and cryptocurrency. And while we believe there will always be separation between the crypto-economy and the 'conventional' economy, we also believe there will be some inevitable overlap. Real information for traders, other speculators, institutions, and those wanting to move back and forth between government currency and cryptocurrency all benefit from real information about exchanges.
Here's what other info Bitwise found out about exchanges:  Go to My Newsletter on Substack to find out.....and remember you can try it for 2 weeks free before you buy.